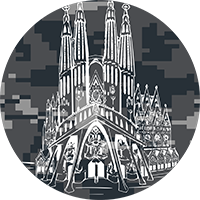 Spain
Today we will explore the Ordesa y Monte Perdido National Park. The Valle de Anisclo and the Collado de Sahun are on the agenda. Ordesa National ParkThe Ordesa Natural Park was founded in 1918 and has been a UNESCO World Heritage Site since 1997....
With the camper van through Spain - from the Atlantic to the Mediterranean Sea
Spain Part 1: VanLife in Northern Spain
The destination firmly in sight - camping on the Atlantic and Mediterranean coasts
From September 2019 to March 2020 we were, with our camper Van Hector, on the road in Spain and Portugal. We spent the days from 27 September to 13 October in Spain and returned, after our tour through Portugal, on 27 December back to Spain, where we stayed until 14 March. There were many wonderful experiences during this travel period, from visiting the Guggenheim Museum in Bilbao, to the spring awakening in Ibiza. For us, camping and the VanLife itself, is and remains simply incomparably beautiful, we would even say, our great love.
The first part of the trip in Spain - camper van and northern Spain fit well together
One of the first stops in Spain was Donostia-San Sebastián a city in northern Spain, near the French border. It is known for its shell-shaped bay. In the old town, we met many friendly people standing on the streets with tapas and wine. A great atmosphere! We continued on to Bizkaia, which could well be called the "South Tyrol" of Spain, at least in terms of scenery. One lesson that this stage taught us, I will not forget so quickly: "Good things take time". Because from a planned hour, on the way to Bilbao, became very quickly six hours, thanks to the hills or mountains that Hector, our camping van, with us and our luggage on board, had to conquer. My tip for you, if you are also with camper, motor home or similar vehicles on the road: Be careful to better calculate too much time, then nothing can bring you so quickly from the rest and you save unnecessary stress.
With camper van directly along the sea to the Guggenheim Museum and much more...
One of my highlights on our tour of Spain, was our visit to the Guggenheim Museum in Bilbao. The modern art museum opened in 1997 and both the building itself and the exhibits are very impressive. On the way to Cantabria we passed by the oldest floating ferry in the world and didn't want to leave it at just looking at it, so we decided to "travel" a little bit with the ferry as well, so that our Hector, the camping van, could get to know it once as well - and what can I say? - He liked it very much. On a later leg, we encountered hikers in colorful rain ponchos who were "pilgrimaging" their way through northern Spain. I was glad that we were able to spend our Spanish days in the van at least a little more comfortably, even if our rolling one-room apartment is a constant challenge, especially in terms of space.
Storage, order and organization in the camper van - fortunately there are Delta Bags and Co.
The VanLife is characterized, among other things, by the fact that many things must be transported in a confined space and ideally so that they are always quickly at hand.  
That's why I'm very happy about our little organizers. We particularly like the supplier Delta Bags with its organizer products, for equipping camping vans. Delta Bags offers items for hanging storage or Velcro, for example. Good fastening, storage space, clever organization and secure protection of the equipment, are always the focus of the products. We ourselves have the Litter Holder S and M, designed for litter storage. We also own a Spare Wheel Cover from Delta Bags. If you'd like more info on Delta Bags' offerings yourself, just check out their homepage, you'll find all the answers you need there.
Spain Part 2: VanLife in Southern Spain
Hector takes us to southern Spain - Van life can be so beautiful
After Portugal comes Spain again, southern Spain to be more precise. Here we discovered the wonderful Ruta de los Pueblos Blancos in Andalusia and paid a visit to the hot springs near Santa Fe. A very special treat with music and the smell of cannabis. Also part of the exploration of these southern regions of Spain, was the stay in Valencia, the third largest city in all of Spain. And what better way to use our visit there than for a little haircut? After six weeks, without having the hair cut, this is especially for short hairstyles, usually a good decision.
Ibiza - camper van meets Spanish island in the Mediterranean Sea
If I could choose, I would definitely choose again to welcome the spring of 2020 in Ibiza. Swimming and bathing in the sea and relaxation I particularly enjoyed there. And as an interesting experience I would also chalk up meditating, with instruction in English. On March 14 we leave Ibiza and with it Spain, overall really a top experience.