SpaceCamper, Terranger & Co.
Where the road ends,
the fun begins.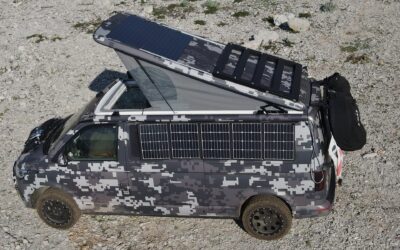 "The sun does not send us a bill and is available to us indefinitely." - Franz Alt Solar energy | Solar power: Sun is available in unlimited quantities. But what about electricity? - "Free and wild" camping. For many, including us, a dream. Water and electricity...
SpaceCamper Camping Van
Time in the SpaceCamper is time for freedom and adventure
Camping vacation is becoming the favorite form of vacation for more and more people. But fewer and fewer people want a large Camper have standing around. The solution is a EverydayCamperthat is both suitable for everyday use and camper-friendly - because this is pure freedom. This is how a camper quickly becomes the egg-laying willow. You can use it as Camper, Businessvan or Offroader use or just as Everyday vehicle, as Car or Transporter. A real Bulli durable, practical and versatile. So you can simply escape from everyday life. If you don't just want to get out for a short while, but are planning longer trips, you should start thinking about it early. Who has a Camper or rebuilt Van like we do, for whom the Camping downright cult.
With our SpaceCamper BUTCH we chug sometimes quite relaxed through the countryside, sometimes we live, since our conversion from Terranger, the freedom to leave well-trodden paths and roads and to Offroad to cruise. Because with a 4×4 offroadCamper one comes souver through almost any terrain. For us, BUTCH is the ultimate Camper, both on and Offroad. Out into nature Experience adventure anew, who wouldn't want that? With us comes one more, more sea. One thing is for sure - we are always very flexible and independent on the road. It doesn't matter whether we're going to New Zealand, Canada, Holland, the mountains or the lake. For Camper applies, even if it goes somewhere very close, you have your home with you. You stay flexible, so you can just stay with friends on the doorstep, the nice restaurant or in some nice city. Spontaneity is what counts.
Our BUTCH, a VW T6.1 from the house SpaceCamper, due to its long wheelbase offers 40cm more free space than common comparison models, such as the VW California. This may sound like little, but more than ½ square meter more usable space, is a lot in a Camper. You notice, space gain has a completely different value. But it is just as important to Van according to his personal wishes. Because not all days are sunny. Even on bad days, you want to be comfortable, so that you can not only last long in it, but also want. Unlike Hector, the predecessor model, a VW California everything is now neatly and systematically stowed. After all, we want to be on the road for a long time. By the way, many recommend lining cabinets and drawers with foam to dampen the noise somewhat. But our Air suspension seems to iron out everything. Nothing rattles, even without foam. Fortunately, when we're tired from the drive and stop for the night, we don't have to struggle with setting up the bed for long. Although it is large, it can be erected in no time at all. Summer and winter we put the manual SCA pop-up roof mostly open as soon as we stand. This not only promotes air circulation, but also creates standing height.
How to remove the water tank in your motorhome
Especially in summer, but of course also the rest of the year, one thing is essential in (long-term) camping or even living in a camper, in everyday life - the water supply. As already mentioned in the entry "Tips & Tricks for camping", you can get water in a graveyard in case of need. However, camping stands for independence and so you should not get into such dependencies. Our SpaceCamper BUTCH already has an underfloor tank of 70 liters, which is heated by engine heat when driving, and by external current when standing. For this we have installed a solar Generating your own electricity. If you live the vanlife, however, you need larger quantities to get by for a long time. For this purpose, we have oriented ourselves to the US manufacturer Road Shower and us an additional Multifunction tank built. Now we are able to transport a total of 170 liters of water. First of all, we have installed a 3m long aluminum pipe, 10cm in diameter, for this purpose. In addition, we have attached to our vehicle a Multifunction roof rack, which also serves as a water tank, with a volume of 38 liters. The drain of the tank is done via a brass coupling from SpaceCamper, so that it fits the shower connection. As additional canisters, we use two drinking water bags of the Swiss army, which again capture 20 liters each.
With the camper conversion of Terranger, and tuning of delta4x4 you come not only through the TÜV, but everywhere.
After only a short time, we considered converting our SpaceCamper for off-road routes as well. After all, we already spend a lot of time off-road anyway and want to keep our range as long as possible. For this reason, we decided to convert at Terranger and delta4x4. After all, the body has to be approved by the TÜV in the end - so we prefer to play it safe. Terranger converts mainly VW T5, T6 and now also T6.1 buses, but also vehicles from Mercedes-Benz are in the program. The adjustments are made, for example, by off-road tires, a VB air suspension, raising, underride protection, as well as by strengthening the towing lugs. Delta4x4 is a specialist for off-road tuning, SUV tuning and pick-up tuning. We have our Klassik B rims and our personal protection bar from delta4x4.
Additional safety with Terranger off-road driving training
In addition to the tuning, you can book an off-road training at Terranger. We would definitely recommend such an off-road training if you want to equip your SUV, truck or van as an off-road vehicle. We have also taken this driving training - and it was a unique experience. At Terranger you learn the technical theory and the practical implementation directly in one. You are not only prepared for more critical passages, but also experts with an understanding of the technical correlations. We learned all kinds of things about air pressure, all-wheel drive, the effect of the electronic differential lock, XDS and ESP. In addition, we have already been gently prepared for the effects of slope angles, ground clearance, fording depth and load. During this off-road theory lesson, we learned some more interesting things about our SpaceCamper BUTCH. Finally, it was down to the nitty gritty. Our way through the terrain led us over various steep climbs and descents, inclined positions, rutted paths and above all through immense amounts of dirt. Among other things, we were able to try out the hill descent assistant of our SpaceCamper under professional supervision. The engine speed is automatically reduced on steep descents. If necessary, the brakes are also applied automatically. However, despite professional supervision, the use of the hill descent assistant required a certain amount of trust in the technology.
Terranger's off-road driving training had another positive aspect: we were on the road with a group of eight VW buses, including enthusiastic campers and van drivers. The exchange with like-minded people is always a pleasure. So if you want, such driving trainings also serve new acquaintances who have the same interests. We also weighed up our various camper options with our van friends at the time.
Even if we would have recognized our BUTCH also so each time, this was, by our pixel camouflage look, even easier. In a group of individualists, we had an individual van, through the film coating, with glass-ceramic long-term sealing, from the Foliencenter NRW. In the harsh conditions, the, by Glanzwerk Bornheim additionally reinforced, scratch resistance of the film to 9H, was certainly worth its weight in gold.