Would you also like to reduce your ecological footprint on holiday? How can we help you do that?
We want to help reduce environmental impact, conserve natural resources and promote socially responsible behaviour without getting on our high horse. We also deliberately don't want to point the proverbial finger at others.
But how do you reconcile ecological and social concerns with economic interests?
We quickly realised that it is not that easy. Sicily, especially Palermo, does not exactly shine with sustainable ideas and measures.
Plastic avoidance and separate waste collection seem to be unfamiliar terms. But there are also positive things to report. Some bus stops are now equipped with charging stations. And in the electricity storage market, Italy, especially Sicily, is considered a pioneer in renewable energies.
There is still a lot to do. That's why we don't want to give up making our modest contribution.
Yes, we even chose the word modest on purpose. Because we are certainly only at the beginning. Within the scope of our possibilities, we try to make our contribution. True to the motto:
Doch wie bringt man ökologische, ökonomische und soziale Belange unter das Dach einer Ferienwohnung?
Schnell stellten wir fest, nicht so einfach. Sizilien und insbesondere Palermo sind sicher keine Leuchttürme für nachhaltiges Denken und Handeln.
Plastikvermeidung, Mülltrennung scheinen Fremdwörter zu sein. Doch es gibt auch Positives zu berichten. Die ersten Bushaltestellen werden zurzeit mit Ladestationen ausgestattet. Und im Bereich Speichermarkt gilt Italien und vor allem Sizilien neben Deutschland als Vorreiter in der erneuerbaren Energie.
Es gibt viel zu tun. Deshalb wollen wir uns auch nicht davon abhalten unseren bescheidenen Beitrag zu leisten.
Ja, dass Wort bescheiden wurde ebenfalls bewusst gewählt. Denn wir sind sicher erst am Anfang. Im Rahmen unserer Möglichkeiten leisten wir unseren Beitrag. Frei nach dem Motto:
"There must be a better way to make the things we want, a way that doesn't spoil the sky, or the rain or the land."
Paul McCartney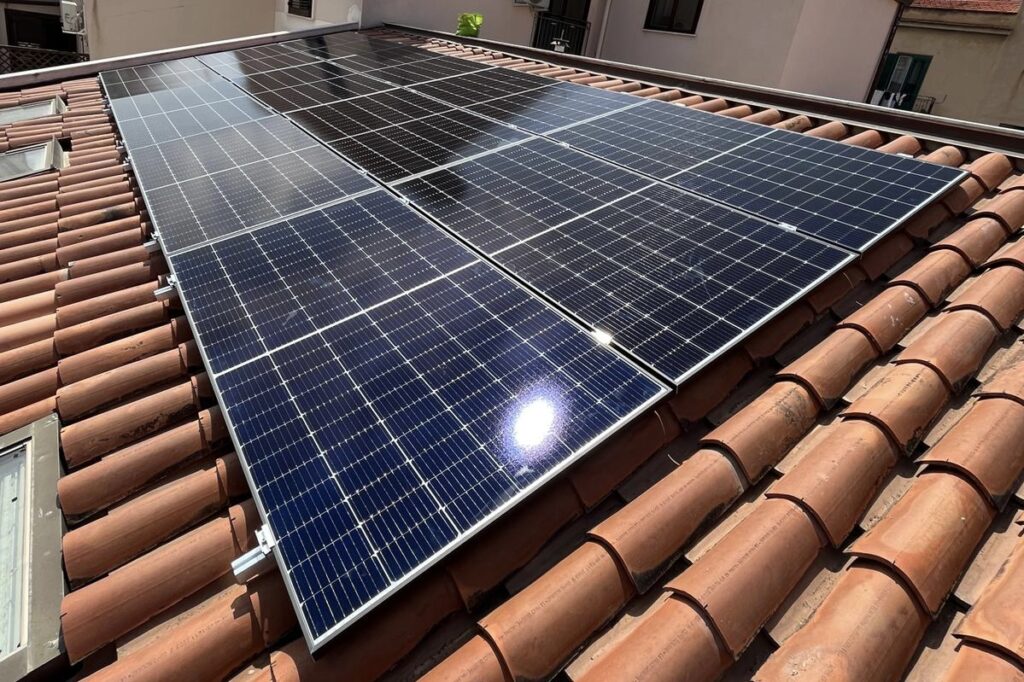 What is our ecological footprint? What is our ecological footprint?
Here is a list of the measures taken so far
Solar energy production and storage
The sun in Sicily contributes significantly to sustainability as we understand it. It shines on average 7.4 hours a day. This is not only good for body and soul, for our vitamin D requirements, but also, and above all, for the environment.
Heating – drying – cooling
Renewable energy makes an important contribution here. The heat pump of the energy-efficient split air conditioner not only allows natural heat from the air to be utilised, but also acts as a primary heat source. The combination of photovoltaic solar system, electricity storage and green energy makes the system CO2 emission-free.
The holiday home also has a state-of-the-art Bosch condensing boiler, although it is designed as a secondary and emergency heat source.
E
lectricity and light
We focused on colour rendering, dim-to-warm and energy efficiency. LEDs guarantee long-lasting and sustainable use of light bulbs.
Besides light, another key focus of ours was to avoid wasting electricity. All appliances, as far as possible, have been chosen according to energy efficiency criteria. In addition, a central switch allows all appliances (except the refrigerator) to be switched off when leaving the house. In the name of ecological savings, logical, isn't it?
Drinking water
Tap water is not only tested at regular intervals based on EU guidelines, but we also find that it tastes exceptionally good. We therefore use it as drinking water, saving us and you the unnecessary hassle of bringing up bottles. It goes without saying that this is precious drinking water, which should not be wasted… PS: Don't forget to fill a bottle and take it with you!
Plastic
Avoiding too much plastic is often difficult enough when you are at home, let alone on holiday! To enable you to do this even on holiday, we have taken a few measures.
For example, we have intentionally avoided using plastic for crockery and cutlery. But the decisive contribution is right on your doorstep: the traditional Ballarò market, renowned for its regional offer of fruit, vegetables, seasonal fish and sustainable meat.
Several shops with bulk products are within walking distance. Our guests can find their precise location on our digital city map. Glass containers, a shopping basket and shopping bag are part of the equipment in our holiday home in Palazzo Vetrano.
Furniture
Already in the selection of our vintage furniture, we have paid attention to sustainability and longevity in addition to appearance and quality. Most of our furniture pieces come from Palermo and the surrounding area and have already brought joy to others. Our brass bed can definitely be called "cross-generational". If we could work together to ensure that this furniture also makes the next generation happy, we would be taking a step forward in terms of sustainability.
Of course, there is also some, very little, IKEA furniture. After all, their customers should also feel comfortable with us. We trust that we have selected their most sustainable products. Or like our not-so-sustainable IKEA lounge chairs bought second-hand.dass diese Möbel irgendwann die nächste Generation glücklich machen, wären wir einen nachhaltigen Schritt weiter.
Natürlich finden sich auch einige, wenige Einrichtungsgegenstände von IKEA. Auch deren Kunden sollen sich ja bei uns wohl fühlen. Wir hoffen die entsprechend nachhaltigen Produkte gefunden zu haben.
"A nation that destroys its soils destroys itself. Forests are the lungs of our land, purifying the air and giving fresh strength to our people."
Franklin D. Roosevelt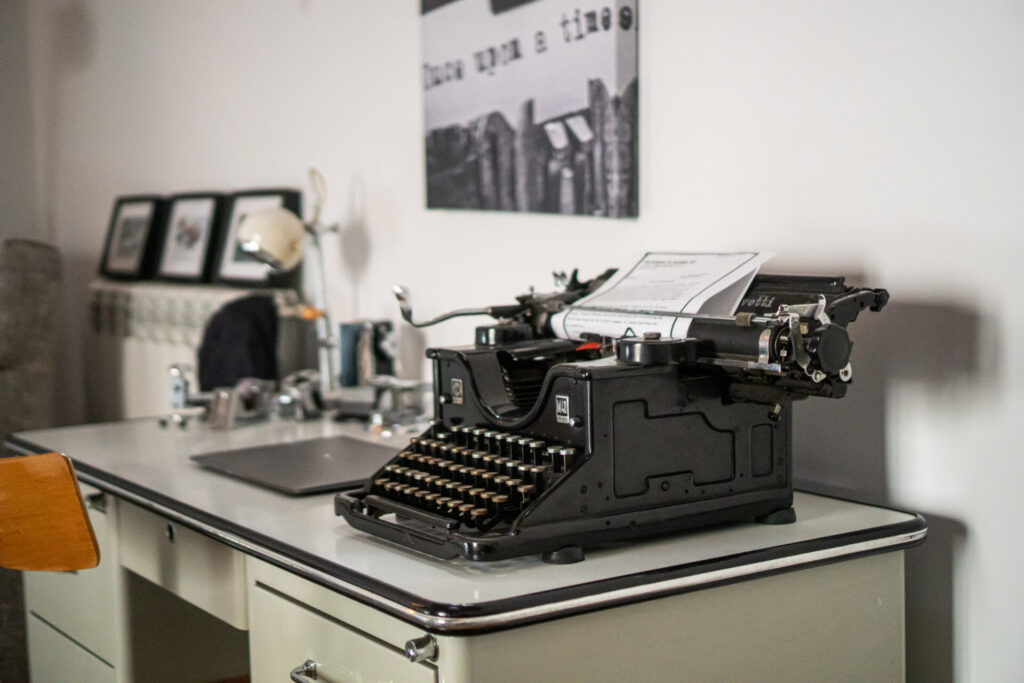 Building materials
Doors and windows are made of wood, a renewable building material. Heat-insulating glazing protects against cold and heat. We found it exciting that the construction company had already thought about the sustainable choice of building materials beforehand. I would not have expected this in Sicily.
Arrival
Obviously the most climate-friendly way to get to Sicily would be on foot or by bicycle. The train would also be fine. It is true that by car it takes an hour less to reach, for example, the port of Genoa from Frankfurt. But what is more relaxing? Especially considering that arriving by ferry at the port of Palermo is a priceless experience.
If you are short on time, you can still come to Sicily by plane without guilt. Almost all airlines now offer compensation for CO2 consumption. The probably better alternative are non-profit providers, such as atmosfair. For example, the climate impact of a round-trip flight for two people from Cologne to Palermo is calculated in the order of 1,200 kg of CO2. This is slightly less than 22% of the flight to Bali, which is often quoted by tour operators. The compensation amount is €28. Here you have the opportunity not only to calculate how much CO2 your flight emits, but also to easily and directly support compensation programmes worldwide.
From Palermo Airport you can take the train directly to Palermo Centrale station and then to the city centre.
"The sustainability revolution will, hopefully, be the third major social and economic turning point in human history, following the Neolithic Revolution – moving from hunter-gathering to farming – and the Industrial Revolution."
King Charles
Local means of transport
In the historic centre of Palermo, you can get around comfortably on foot. Those who enjoy cycling will find a list of bike hire shops within walking distance of our accommodation on our digital map. Destinations in the surrounding area can be easily reached by bus, train or ferry. This saves on car hire – a way that is both economical and environmentally friendly.
Personal responsibility
We have already mentioned our personal CO2 footprint in another article. We are still working on it and are far from perfect. As said, this is not about pointing the finger at anyone, but about promoting joint action.
Food and social life
In our favourite restaurant, Moltivolti, we not only eat well, but at the same time we can promote the social work done by this association in the Ballarò district.
CleanUp
Here you can find information about our personal commitment on the road. Because plastic waste is a ubiquitous challenge today.
Conclusions
We are not perfect. But even small steps count. That is why we are happy to make our contribution together with you.
Save the World. There is no Planet B